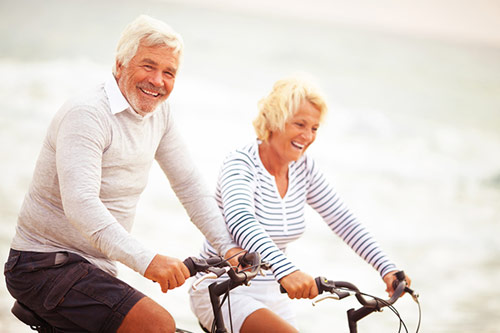 Direct anterior hip replacement is an innovative and advanced approach to hip replacement that significantly improves surgical outcomes. It is gaining popularity among patients and surgeons alike because of the following benefits:
Less damage to surrounding muscles: There are less muscles located in the front of the hip. The surgeon does not cut or detach any of these muscles and can instead work between the muscles to access and replace the damaged hip joint.
Faster recovery: Because there is less injury to the hip muscles, they can provide better support for the new hip joint. In a randomized study conducted by the Mayo Clinic, patients where able to reach functional milestones such as discontinuation of the walker or walking for half a mile about 5 days earlier with direct anterior hip replacement.
Smaller incision size: The direct anterior approach hip replacement can be performed through a single 4-inch incision. The posterior hip replacement approach typically requires a 9 to 10-inch curved incision.
Less Pain Postoperatively: Most patient report a need for less pain medication during their recovery which can be again attributed to less cutting and injury to tissues during surgery.
Lowered risk of hip dislocation: Patients have less postoperative restrictions with the direct anterior hip replacement. When using the posterior approach, patients are advised to avoid crossing their legs, deep bending at the hip, or internally rotating the hip.
Of note, the direct anterior approach hip replacement is a technically demanding procedure and should only be performed by a well-qualified and experienced orthopedic hip specialist. Visit our office to find out if you are a candidate for this procedure.
Dr. Yaser A. Metwally is board-certified by both the American Board of Orthopedic Surgery and the Royal College of Surgeons of Canada. He received his fellowship of Reconstructive Surgery from the Mayo Clinic in Rochester, Minnesota and specializes in hip and knee replacement surgery.