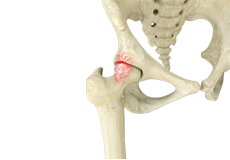 Femoroacetabular impingement (FAI) is a condition where there is too much friction in the hip joint from bony irregularities causing pain and decreased range of hip motion. The femoral head and acetabulum rub against each other creating damage and pain to the hip joint.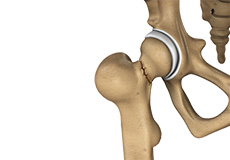 Hip fracture is a break that occurs near the hip in the upper part of the femur or thigh bone. The thigh bone has two bony processes on the upper part - the greater and lesser trochanters. The lesser trochanter projects from the base of the femoral neck on the back of the thigh bone. Hip fractures can occur either due to a break in the femoral neck, in the area between the greater and lesser trochanter or below the lesser trochanter.
Normal Anatomy of the Hip Joint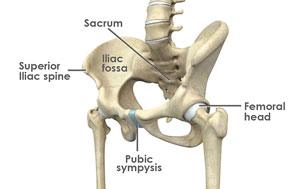 The thigh bone, femur, and the pelvis, acetabulum, join to form the hip joint. The hip joint is a "ball and socket" joint. The "ball" is the head of the femur, or thigh bone, and the "socket" is the cup shaped acetabulum.
The joint surface is covered by a smooth articular surface that allows pain free movement in the joint.
The cartilage cushions the joint and allows the bones to move on each other with smooth movements. This cartilage does not show up on X-ray, therefore you can see a "joint space" between the femoral head and acetabular socket.
Pelvis
The pelvis is a large, flattened, irregularly shaped bone, constricted in the center and expanded above and below. It consists of three parts: the ilium, ischium, and pubis.
The socket, acetabulum, is situated on the outer surface of the bone and joins to the head of the femur to form the hip joint.
Femur
The femur is the longest bone in the skeleton. It joins to the pelvis, acetabulum, to form the hip joint.