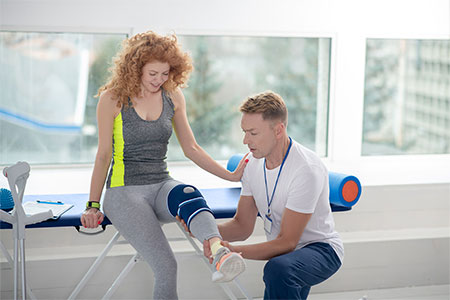 Physical therapy plays a vital role in the recovery process after surgery. It assists patients in their journey to heal and return to their active lifestyles. Regardless of the type of surgery, physical therapy is a necessary part of your postsurgical plan. The success of the surgery and the speed of your recovery will depend mainly on your active participation in physical therapy. As surgical incisions heal, scar tissue forms, causing tightness or stiffness around the surgical site. It is helpful to stretch the muscles daily as the first part of your warm-up before exercising.
Physical therapists are knowledgeable about surgical procedures and treatment goals for postsurgical patients. Most importantly, physical therapists can tailor treatments to improve the patient's overall well-being and even improve the surgical outcome. Since it typically takes six to eight weeks for soft tissue to heal, you should plan to participate in the rapeutic activities for at least that long.
With most orthopedic surgical procedures, early mobilization and slight muscle movement will speed up healing. Generally, early mobilization starts with gentle range-of-motion exercises and then moves on to stretching and strengthening exercises while taking care to prevent injury. When you are ready, add weights to your exercise routine to strengthen the supporting muscles further.
Physical therapy can:
Improve mobility faster
Reduce pain and swelling
Improve balance
Reduce scar tissue
Help you gain strength
Physical therapists perform a myriad of functions related to health and well-being. The purpose of physical therapy is to help a patient achieve optimal physical functioning. After surgery, an individual's bones, joints, muscles, and soft tissue need to heal. Physical therapy is an essential tool in the ability to heal correctly to prevent future injuries.
Dr. Ryan Colley attended medical school at Midwestern University Arizona College of Osteopathic Medicine. He completed a residency in orthopedic surgery at Ohio University, studying all orthopedics fields, including trauma, joint replacement, sports medicine, pediatrics, and hand surgery. Dr. Colley focuses on all aspects of upper extremity joint replacement, reconstruction, trauma, and arthroscopy. He also performs robotic-assisted total knee replacement. Dr. Colley has authored several publications and book chapters. He takes a holistic approach to improve the quality of life for his patients. In his free time, Dr. Colley enjoys time with his wife and two children. They love to hike, fish, snowboard, and travel.