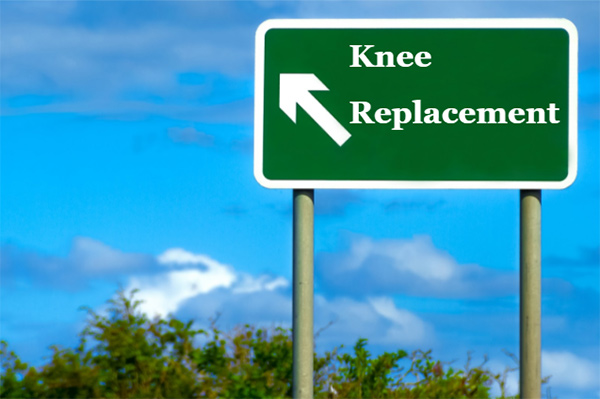 As you travel throughout your week, you encounter various signs showing you where to go and sometimes where not to go. For the millions of Americans suffering from knee pain, a sign telling them when to have knee replacement and when not to have knee replacement would be a welcome sight.
Osteoarthritis or a knee injury is the most common cause of needing knee replacement. Knee osteoarthritis is a debilitating condition caused by an injury or degeneration of the knee joints leading to pain, inflammation and increased stiffness in your knees.
With our knees taking us everywhere we want to go throughout the day, chronic knee pain can quickly affect your quality of life. Knee replacement surgery is the most common elective surgery in the United States with over 600,000 procedures being performed each year. As people live longer and are more active, this number is expected to increase in the future.
Conservative treatment is always recommended before surgery. Medications, injections, physical therapy, and lifestyle changes may adequately treat your knee pain and allow you to return to your everyday activities. However, if conservative treatments have failed to provide pain relief and restore function to your knee, you may be ready for knee replacement.
Some signs of needing knee replacement include:
Extreme knee pain that interferes with your everyday activities
Moderate pain even while resting or sleeping
Swelling that does not go away with rest
Non-steroidal anti-inflammatory drugs (NSAIDs) fail to affect the pain
Knee stiffness and loss of motion
Knee replacement is an elective procedure and you should make an informed decision after understanding all your treatment options. Depending on your job and activity level, surgery may not be indicated.
If you are suffering from chronic pain that is affecting your quality of life and you want to stay active, then electing for knee replacement sooner rather than later will provide a more positive surgical outcome.
With advances in implant material and minimally invasive surgical techniques, outcomes and longevity of knee replacements have changed significantly. According to the American Academy of Orthopaedic Surgeons, total knee replacement is one of the most successful surgeries in all of medicine.
Dr. Yaser A. Metwally is board-certified by both the American Board of Orthopedic Surgery and the Royal College of Surgeons of Canada. He received his fellowship of Reconstructive Surgery from the Mayo Clinic in Rochester, Minnesota and specializes in hip and knee replacement surgery.